The friendliest DENTAL TEAM in Tauranga!
Toothache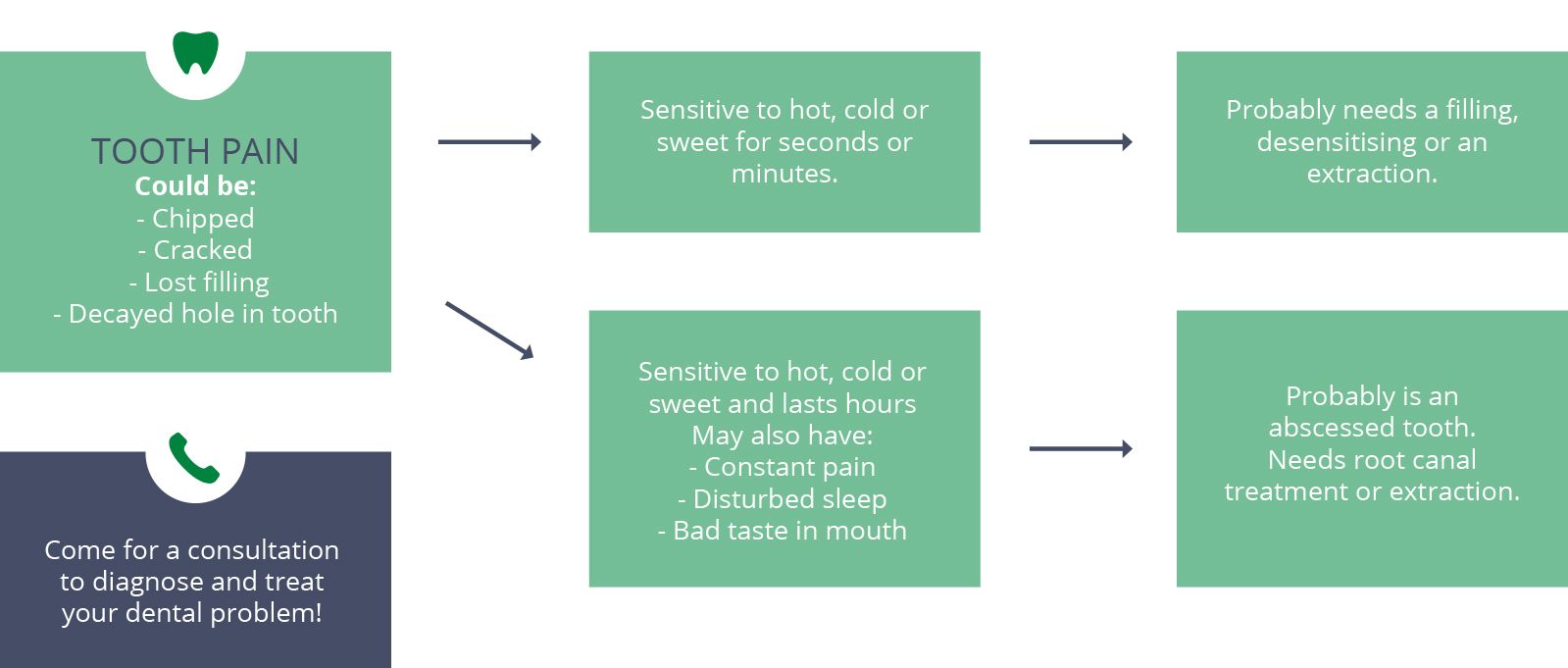 Toothache is pain that affects a tooth or the area around it, usually the jaw and the gums. Tooth pain comes in various levels of severity. Some tooth pain is so serious and agonising that the affected person cannot think properly and concentrate, due to the pain.
Dental pain can be due to a chipped or cracked tooth, a filling or part of the tooth has been lost, a very sensitive tooth to cold (can be a hypersensitive tooth root), decay close to the nerve of the tooth, trauma or gum disease.
If the pain lasts for seconds or minutes and goes away, the tooth is probably still fixable. The solution can be a filling, desensitising toothpaste, or an extraction.
If the pain lasts for hours and you are woken up in the night from pain, the tooth may be abscessed or have a vertical fracture. The solution is either to remove the painful part of the tooth (a root canal dressing, and further treatment which retains the tooth in your mouth), or an extraction. Sometimes the severity of the dental infection may restrict mouth opening, so antibiotics may be required to initially control the infection; this will allow a subsequent procedure to be performed.
TOOTHACHE SOLUTIONS
Please come in for a problem consultation starting at $79 so we can provide a solution that suits you and your budget. We ideally would take a single small x-ray costs $29 and/or a panoramic x-ray costs $99, to assess the problem and provide options.
We hope that we can relieve the pain you have been experiencing in that appointment, but sometimes this is not possible and antibiotics are required.
Usually we would need to do a filling, extraction or start a root filling, which would cost from $250.
TOOTHACHE AFTER HOURS
If you have toothache after hours, we would recommend using a combination of ibuprofen and paracetamol as per the dosage guidelines.
Two 200mg tablets of ibuprofen every 8 hours with
Two 500mg tablets of paracetamol every 6 hours
Sometimes it takes a 2-3 days for a big difference in pain to be achieved.
Alternatively, on a weekend you can phone the emergency dental clinic on 07 571 1230 for an appointment.