The friendliest DENTAL TEAM in Tauranga!
About Us
Fi - Friendliest dentist!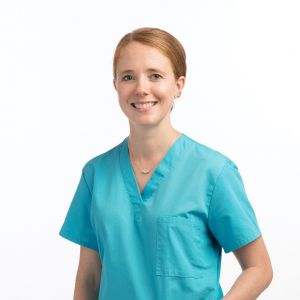 Fiona is the friendliest female dentist in Tauranga! She is a smiling, Scottish dentist who moved to the Bay of Plenty in January 2011, after travelling all over New Zealand. She gained NZ residency in August 2011. Fi finds Tauranga a lovely, sunny city with friendly people in a wonderful location and is delighted to have settled here. She set up Gardens Dental from scratch in 2011, and is very happy to be so busy!
Fi and her husband Tom had their son Charlie in September 2013. They all enjoy going for walks with their two dogs Bailey and Toby. They have a menagerie of animals - 12 chooks, 4 ducks, 2 dogs, 1 cat and 2 fat piggies.
Fi is able to communicate effectively with patients and dental colleagues, and is keen to establish an excellent rapport. She is sympathetic to the needs of her patients and aims to provide comfortable treatment to the highest clinical and ethical standards. She is committed to the long-term dental health of you and your family.
Fi looks forward to providing the highest level of dental care to all her patients and hopes to keep your dental experience as relaxed and enjoyable as possible! If you are looking for a friendly, quality, female dentist, please visit Gardens Dental Tauranga at 38 Cliff Road.
Check out our video so you can meet Fi and her team!
TIm - great Dental Hygienist & Therapist

Tim joined Gardens Dental in August 2019, and has been an awesome addition to the friendly team in his role as an oral hygiene therapist. He will provide you with excellent advice and treatment in how to prevent, reduce or stabilise gum disease. Tim can also assess and treat children for their annual checkups.
Tim has always been interested in health, discovering his passion for dentistry while on an operational deployment to Afghanistan, where he noticed the effects that dentistry can have on people's quality of life.
Tim served 10 years in the New Zealand Army as a medic, concentrating on pre-hospital emergency care. During this time he loved meeting new people and working to improve general health, while also being responsive to any situation that might arise.
After his experience in Afghanistan, Tim was motivated to pursue a career in Oral Health and has obtained his Bachelor of Oral Health from Otago. Tim loves to work with patients to make a positive change with an aim to applying a preventative approach, mostly focusing on education. He hopes to empower his patients to improve and maintain their oral health. Tim enjoys carrying out a variety of clinical procedures such as treating gum disease, tooth whitening and fillings on children.
Tim is still serving in the New Zealand Army as a Lieutenant in the Army Reserves. This role sees him manage the Reserve Medics for the upper North Island and plan all their training while encouraging and enabling their career development. While in the Regular Army, Tim was deployed in 2004, 2006 & 2007 to Afghanistan, The Solomon Islands and Korea.
Tim moved from Dunedin to the Bay of Plenty and has two sons Tarquin and Asterix. When time allows, his hobbies are: football (soccer), cycling, the outdoors and pretty much anything that involves water.
Rhonda, Natalie, Hannah and Rachel- AWESOME RECEPTION TEAM

Rhonda, Natalie, Hannah and Rachel will probably be the first people to speak to you on the phone! They are both friendly, professional, efficient and awesome!
They liaise with Fi and Tim if there are any emergency appointments required and some re-shuffling of our days is needed. They have a list of people that can come at short notice if someone has to reschedule, so if you would like to get added to that list, please let us know!